oe Dempsey Photo Dot-com is owned and operated by me, Joe Dempsey, a Pine Bluff photographer. In addition to being a long-experienced photographer, I am an art director, digital artist, graphic designer, web designer, Photoshop® specialist, and a writer.
I started in photography as a teenager and have been at it ever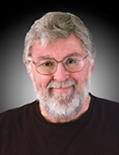 since, transitioning from film and darkrooms to digital, computers, and imaging software. I use Nikon D series digital equipment. I process and prepare image output on custom built computers using the latest updates to the Adobe Creative Creative Cloud programs and other advanced imaging software.